More Countries Now Using mHero to Boost COVID-19 Response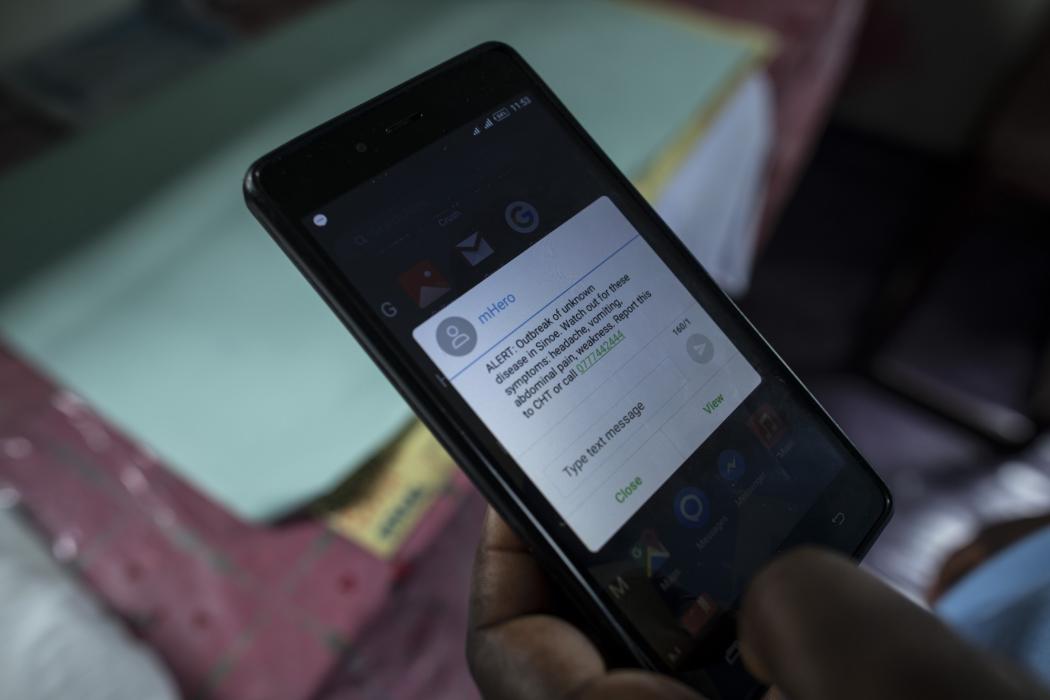 More countries are using mHero to tackle their COVID-19 epidemics, including to monitor the health of their frontline health workers, speed up communications between ministries and the front lines, and boost surveillance and response for COVID-19 and other disease threats.
During any disease outbreak, real-time communication between national health authorities and frontline health workers is critical to protecting health workers and saving lives. IntraHealth International's mHero application—a two-way, mobile phone-based communication system that connects ministries of health and health workers—is designed to do exactly that.
Now more countries and international development donors are looking to mHero to strengthen health systems and their responses to COVID-19, including by:
Monitoring the health of frontline health workers
With funding from Digital Square, IntraHealth is deploying mHero in up to three countries—including the Democratic Republic of the Congo and Liberia—to collect data on the health of the health workforce. Those data will help ministries of health keep an eye on their health workers, ensuring that they have sufficient personal protective equipment and are not becoming infected with COVID-19.
"We are excited to see how we can support ministries of health in understanding their workforce —down to specific health workers—to inform district and national policy interventions," says Caitlin Loehr, digital health specialist at IntraHealth.
Improving communications
With funding from the Johnson & Johnson Foundation, IntraHealth will enhance mHero's functionality so it can be used to automatically update health worker information in iHRIS—IntraHealth's free, open source software that helps countries track and manage their health workforce data—and to simplify the process for sending messages to health workers via SMS.
IntraHealth will also be exploring other popular communication channels, including WhatsApp, which enable sending multimedia content and web links. Our team will field test these two activities in countries where mHero is deployed.
IntraHealth will also add an electronic integrated disease surveillance and response module to enable health workers to alert ministries of health to suspected cases of an expanded list of infectious diseases, including Ebola—and trigger a response.
"I am proud that our work with the Liberian government to use mHero in responding to the West African Ebola outbreak in 2014 can be extended to COVID-19 response across multiple countries in 2020," says Ally Shaban, global health workforce technologist at IntraHealth.
Connecting community health workers
Before the COVID-19 pandemic, UNICEF had planned to use the mHero Connector, which can be configured to sync with multiple health worker registries, in Uganda to automatically sync UNICEF community health workers' contact details with the communication platform they use to send messages to pregnant women and new mothers.
IntraHealth installed and configured mHero for this. But just as that work was being completed and the first cases of COVID-19 were confirmed in Africa, UNICEF saw another opportunity to use mHero—to communicate with their community health workers about virus response.
In the future, it will be possible to add groups of community health workers that are managed by other organizations for more coordinated communication among all community health workers.
Strengthening the frontline response
As part of the USAID HRH Kenya Mechanism, IntraHealth is helping the government and frontline health workers use mHero to communicate swiftly in response to COVID-19.
mHero will allow health workers to ask questions and provide information to the Ministry of Health and the counties. In turn, health workers will receive important messages about service delivery protocols and guidelines, reminders, links to eLearning courses, and training information.
IntraHealth and UNICEF worked together to create mHero in August 2014 during the Ebola outbreak in Liberia. Learn more about the technology and how it works here.